Wabash County was formed in 1824 when it was separated form Edwards County after a dispute over the county seat.
Mt. Carmel, the county seat, is the largest city in Wabash County.
Some public records have been destroyed by a series of events in the mid-1800's.

The first courthouse was in Centerville, a town that was created to serve as the county seat.
Within a few years, the county seat was moved to Mt. Carmel and a new courthouse was built in 1831.
This building burned in 1857, destroying all of the courthouse records except for a log of commissioners minutes.
Some documents were recreated from personal records. The third courthouse, built in 1857, was destroyed by a tornado in 1877.

The fourth courthouse was built with state relief aid in 1881 and remained in use until it was "rebuilt" in 1959 and 1963
(i.e. the front part was torn down and a new wing built then the rest was torn down and the new building was completed).
---

Resources
Combined History of Edwards, Lawrence and Wabash Counties, IL
Jordan Creek Church & Cemetery
Military Records
(Civil War Pensions)
Illinois Soldiers' and Sailors' Home Residents
GLO (General Land Office Records)
Wabash County Museum (Burkett House)
A History of Southern Illinois
Wabash Co IL Message Board - Ancestry.com
Wabash County Message Board - GENFORUM
Wabash County Mail List
Search the ILWABASH mail list archives
Browse the ILWABASH mail list archivess
Wabash Co Historical Society Publications
Old Queries

1996 1997 1998 1999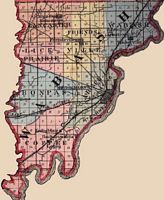 Source: Atlas of Henry Co. Illinois to Which is Added an Atlas of the United States
Warner & Beers Publishers, Chicago, 1875. Courtesy - Alice Gless

Neighboring counties


Visit Illinois Genealogy on

Facebook